Scholarships and Programs
Scholarships are gifts that don't need to be repaid. There are thousands of them offered by schools, employers, individuals, private companies, non-profits, communities, professional and social organizations. Start early and do your research.
Financial Assistance
Federal Grants and Scholarships
Grants and scholarships can come from the federal government, your state government, your college or career school, or a private or nonprofit organization. Do your research, apply for any grants or scholarships you might be eligible for, and be sure to meet application deadlines!
Certain scenarios may require that a portion or all the grant funds be repaid, for example, if you withdraw from school before finishing an enrollment period such as a semester.
For information about the Federal Financial Aid Process, click on the videos below to get started.
About the Federal Financial Aid Process
Additional Places to Look…
Scholarships
What kinds of scholarships are available, and how do I get one?
There are thousands of scholarships, from all kinds of organizations, and they're not hard to find. You might be able to get a scholarship for being a good student, a great basketball player, or a member of a certain church, or because your parent works for a company, or for some other reason. Find out more about finding and applying for scholarships. You'll also want to be careful and avoid scholarship scams.
Organizations who have supported FCTC Students
Special thanks to numerous individuals and the following organizations who have provided scholarships and assistance to FCTC's students…
Bostwick Community Association
Cedar House Inn
Cianbro Charitable Foundation
Communities in Schools
Cross Creek Church
Donald E. Heyman, Sr, SkillsUSA Award
GFWC Woman's Club of St. Augustine
Horatio Alger Association Career Technical Education Scholarship
Elks USA Green Cove Springs Lodge No. 1892
Flagler Hospital
Florida Association of Rural EMS Providers (FAREMS) Farems.org
Florida Restaurant Association
Frank V. Oliver, Jr. Endowment at The Community Foundation of Northeast Florida
Gamma Delta Chapter
Horatio Alger Association Career Technical Scholarships
Howe Memorial United Methodist Church
JAGA Charitable Trust
Melrose Woman's Club
NAPA Auto Parts
Putnam County FFA Alumni
Redfin Scholarship
Rotary Club of Crescent City
Rotary E Club
Rotary Club of St. Augustine
Sanford & Son NAPA Auto Parts
Spanish Wine & Food Festival
Spherion Staffing Services
St. Augustine Garden Club Scholarship
St. Augustine Historic Inns Holiday Tour
St. Augustine/Ketterlinus High School Association Scholarship
St. Augustine Sunrise Rotary
St. Augustine/St. Johns County Board of Realtors Contact
Trinity Episcopal Parish
Wells Fargo Foundation
FCTC Foundation Scholarships
Kiwanis Club of Historic St. Augustine
Research shows that people with a high school diploma or GED will earn at least $400,000 more in their lifetime than those who lack a diploma. The FCTC Education Foundation provides a GED Success Scholarship for students with a demonstrated financial need. This scholarship covers the cost of  a short, intensive and effective class and all exam fees. GED Success classes are held monthly, for four nights just prior to the GED exam – so students take the exam fresh and confident.  To ensure students will pass the GED, the official GED practice test is given.  This allows instructors to accurately target specific skills students must master. A $130 contribution provides a full student sponsorship and raises earning potential exponentially.

 Dee Callum Memorial Scholarship
Dee Callum spent over 30 years helping her clients feel beautiful and now those same clients are giving back to honor her memory.  Dee opened her salon, Dee's Hair Design, in 1990, fulfilling her dream of owning her own business. According to friend and client, Shirley Jordan, "you entered Dee's salon a client and left a friend. She touched everyone who met her." Dee lost her three-year battle with cancer. Her many friends and clients sought to honor her memory by creating a scholarship for future cosmetologists.  The Dee Callum Cosmetology Scholarship was established at FCTC to provide a full-year's tuition to an enrolled student.  Organizer Shirley Jordan stated, "It is our hope that the recipient will pursue his or her career with the same passion and love that Dee showed to all her clients."
 Ancient City Auto Club Scholarships
Ancient City Auto Club has created two scholarships to promote FCTC student success and automotive technology preservation. Scholarships will be awarded to male or female students ages 18 to 25. High school GPA is a consideration but not a requirement. Applicants are requested to write a short essay describing their interest in the automotive field. Finalists will be interviewed by ACAC members.

Volkswagen of St Augustine Scholarship Automotive Service Technology
Created in 2014 and endowed by Volkswagen of St. Augustine, this scholarship provides tuition assistance to a current or future Automotive Service Technology student.

Technical Worksmanship Scholarship for Refrigeration and Air-Conditioning
Taylor Refrigeration and Air-Conditioning and Carrier Enterprise established this scholarship in 2015 in honor of Mario "Butch" Taylor Jr., who believed in technical education and passed those skills on to those he worked with at Taylor Refrigeration and Air-Conditioning.


Mary Garnett Scholarship
Established in 2003 in memory of Mary Garnett, this scholarship honors a devoted educator at FCTC's Putnam Center and is for graduating high school seniors entering First Coast Technical College.
Betty Johnstone Altrusa Women in Transition
In 2017, Altrusa International of St. Augustine, Inc. will award a $500.00 scholarship to a student attending FCTC. The applicant must be a U.S. citizen, a resident of St. Johns County for at least one year, have received a high school diploma or G.E.D. and be a full-time student and be available to attend a future meeting of the Altrusa Club.
St. Augustine Sertoma Club
Sertoma is dedicated to SERvice TO Mankind by providing financial outreach to local residents and outreach that helps other charities fulfill their goals. This scholarship is provided to individuals who are St. Johns County residents.

St. Augustine Dental Society
Local dental professionals from St. Augustine have made this scholarship available to St. Johns County prospective or enrolled students in FCTC's Dental Assisting program.
The Woman's Exchange of St. Augustine
Founded in 1892, this non-profit organization is committed to its mission of "women helping women"  working to support the Peña-Peck House Museum, to give handcrafters a venue for selling their products, and to provide scholarships for deserving women who are returning to school to prepare for new careers. This scholarship is available to female students 25 or older residing in St. Johns County and in financial need for school related expenses.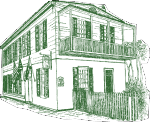 Fresh Starts in Culinary Arts
First Coast Technical College launched the first class of the Fresh Starts in Culinary Arts program at St. Augustine's St. Francis House in August of 2013. This four week program is designed to provide residents of the St. Francis House with relevant training and certifications that will make them immediately employable one of the fastest growing occupation in Florida – foodservice.
Enrolled students train in St. Francis House's kitchen through a mix of hands-on and classroom instruction, provided by FCTC Chef Instructor Ted Kowalski. Each day, Fresh Starts students prepare a gourmet lunch to be served in St. Francis's dining room. This program was created thanks to the generous donations of the St. Augustine Spanish Food and Wine Festival, Wells Fargo and St. Augustine Historic Inns Holiday Tour.
This career training program was possible due to funds raised through the Spanish Wine & Food Festival. Due to the generosity of our community, this fund supports students in all FCTC programs who are homeless or transitional so they can gain new skills and fulfill dreams of a bright future.
Agriculture Students