After students complete their programs at FCTC, they immediately contribute to the health and vitality of our community's workforce. Learn more about what graduates are doing today.
Calling all Alumni!
Tell us how you're using your FCTC education. Click here to share your story and email a high resolution image.
Graduating Class of May 2018
Your graduation photos will be shared here. Watch for an email coming soon.
Alumni Spotlights
     Rebekah Collis, Practical Nursing Class of 2016 employed at Vicar's Landing
     Marc Sokolay, Automotive Service Tech Class of 2016 works at Fields Cadillac St. Augustine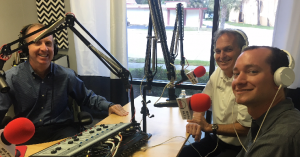 Marc (R) with Field's Service Manager Frank Harrington (C) and Kevin Geddings (L) of WSOS Radio